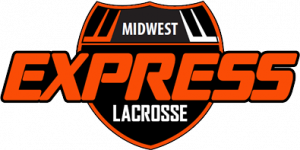 Long Island Express, the nation's premier youth and high school club lacrosse program, has announced that beginning this August it will be expanding to the Midwest.  "Midwest Express" teams will be based out of Indianapolis, IN and feature training and educational programs supported both locally and by Express Lacrosse Club's National Directors.
The Midwest Express program in Indianapolis will include all of the same aspects that make their Long Island, DC, North and Connecticut affiliates world class – an educational commitment to both field & box lacrosse, top-tier coaching staffs, convenient facilities and the newest gear on the club circuit. Teams are open to all players and will be comprised of top talent identified from yearly tryouts.  The goal for Midwest Express ultimately is to field competitive teams made up of the best lacrosse players and athletes spanning across the entire Midwest.  Midwest Express teams will compete on the national club lacrosse circuit against elite programs from across the country.  Midwest Express will field its first teams for the Fall 2019 and Summer 2020 tournament seasons.  Midwest Express teams will practice year round (excluding Spring) and will travel to the east coast where they will play in elite-level tournaments (i.e. National Lacrosse Federation).
Over the past two decades, Long Island Express has achieved unprecedented success as a result of their commitment to building young players and growing the game of lacrosse. They are ranked among the top tier of club lacrosse programs in the country, consistently competing for championship titles throughout the year. Most recently, Long Island Express teams have won the National Lacrosse Federation (NLF) Championship as well as the World Series of Youth Lacrosse Championship. Boasting an impressive & unparalleled track record of elite level college commitments, the training methodology used to develop Express Lacrosse teams and players has proven to be second to none.
"We couldn't be more excited to bring the Long Island Express brand and training expertise to the Midwest", said Midwest Express Director, Mark Berutich. "Lacrosse is far and away the fastest growing sport in the Midwest and as a result players and parents are in search of higher quality alternatives.  For a non-traditional, non-hotbed area like the Midwest to be able to draw upon the vast experience and expertise of a nationally recognized & highly acclaimed club like Long Island Express will not only elevate the game of lacrosse here but will fuel the growth of this great game for years to come.  We are thrilled to partner with Express Lacrosse to offer the finest, highly competitive club lacrosse experience in the Midwest."
Midwest Express will hold tryouts this coming August for their 2019-2020 teams.  Be on the lookout for more details in the coming weeks and be sure to follow us on Twitter @ExpressMidwest and Instagram at- midwestexpresslax
About Express Lacrosse
Express Lacrosse Club has been established to offer highly competitive student/athletes an opportunity within our program to strive for their personal best.  Express is proud to have developed over 500 Division I players, close to 600 players in all, over 25 Under Armour All Americans, and over 30 Under Armour Underclass All Americans.  In addition, Express was one of the first lacrosse clubs established on Long Island, and is one of the most experienced lacrosse clubs in the United States. Not only have we won countless tournaments and awards but our directors and coaches are respected nationwide because of their ability to lead, train and develop outstanding student athletes.