Jordan Krug (2026)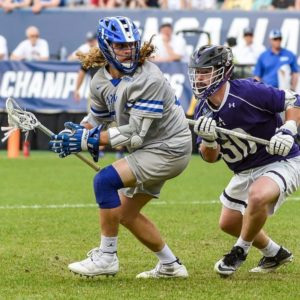 Jordan Krug was a three-sport athlete growing up from elementary school all the way through his High School career at Cherokee High school (Football /Wrestling/ Lacrosse). Coach Krug was a 3-sport captain his senior year as well. Coach Krug continued his playing career at Cabrini University, where he led the Cavaliers to a National Championship in 2019 at Lincoln Financial Field. Coach Krug was a four-year starter, starting lefty attack in every game through his four-year career there.
After his senior season, coach Krug got drafted by the Philadelphia Wings NLL and Philadelphia Barrage MLL, before seasons were cut short due to COVID-19…
Coach Krug continued to stay in the lacrosse world after his playing career, coaching for Tribal lacrosse club and now the Jersey Express program. Coach Krug coached for his High School team Cherokee High during the 23' season, where the Chiefs won their first South Jersey Group4 Sectional championship and fell short in the Group4 state Championship game.
Coach Brett (Woj) (2026 Coach and Special Assistant to 2029 team)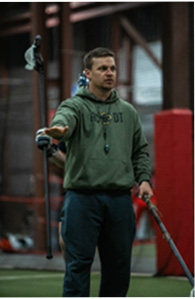 Coach Wojtkowiak played High School football and lacrosse at Cherokee from 2011-2014. He was a 3-year defensive starter, 2x Captain and was an all-time leader in caused turnovers in a season/career. He was also 1st team All-South Jersey as a Senior. Coach Woj played College lacrosse at D3 Ursinus from 2015-2018 and was a 2-year starter and captain as a senior. Coach Woj has been coaching club lacrosse for the past 6 years. He was the head coach of the World Series qualifying 2026's and is a defensive trainer for other teams in the program.
In addition to coaching club lacrosse, Coach Woj co-founded Locked in Lacrosse and is the head defensive trainer.
Coach Rob Davidson (2027 Coach)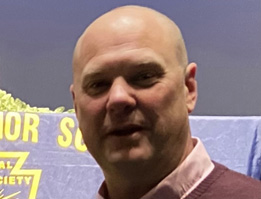 Coach Davidson is the Seneca High School boys lacrosse Head Coach. He started his coaching career in 2004 and has held a record of 201-109. He has had 8 league titles and 4 appearances in sectional championships. He is the 2015 US Lacrosse Coach of the year and coached 3 US Lacrosse All-Americans.
Coach Davidson started coaching for Jersey Express in the 2022/2023 season and is an asset to the program.

Coach Anthony Brunetti (2028 Coach)
Coach Anthony was a four-year letter winner as an attack at Lenape High School. He registered more than 100 goals and 85 assists throughout his high school career. He was named to the All- Conference First team, All-County First team and All-Region Second team during his senior year. Coach Anthony continued his lacrosse career while playing for Widener University. Coach Anthony has been coaching since 2017. He coached for 5 years at Lenape High School as the
offensive coordinator until recently transferring to Pennsauken High School to coach the girls lacrosse program. Coach Anthony brought his coaching expertise to Jersey Express a little over 4 years ago.

"I believe every player is an integral part of the team they are on. The most selfless, disciplined and tough teams are always the teams that taste the most success. I integrate this philosophy at each level I coach and have seen so much success."
Coach Jerrell Kerzetski (2028 Coach)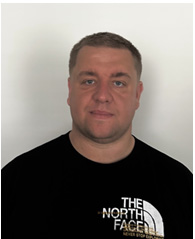 Coach Jerrell Kerzetski played lacrosse at Cherokee High School. He was All-Conference and all South Jersey before attending Kean University to continue his lacrosse career. After college, Coach Kerzetski officiated lacrosse games for 11 years through the NJILOA, while coaching for the Marlton Rec program, Tribal Lacrosse Club program and now Jersey Express Lacrosse. Coach Jerrell has recently become a dad & is looking forward to Wyatt playing lacrosse on the same fields he played on as a child.
Coach Matt Soutar (2028 Coach)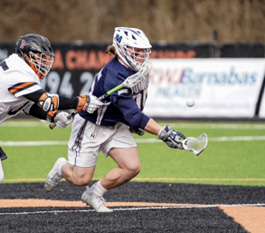 After graduating from Lenape High School in 2019, Coach Soutar played 4 years of Division 1 Lacrosse at Monmouth University, under Head Coach Brian Fisher. For all four years, Coach Soutar was the starting Faceoff-Midfielder in every game for the Hawks & after his final season with Monmouth, holds every program record there is for face-off wins, face-off percentage & ground balls. Excluding the 2020 season (cut short due to the pandemic), Coach Soutar earned All-Conference honors in every season as a Hawk & was also given the Monmouth Lacrosse team Most Valuable Player award during both his sophomore & senior seasons. After graduating from Monmouth, Coach Soutar transferred to the Rutgers University Lacrosse team, where he will use his last year of NCAA eligibility to play one season with the Scarlet Knights, while pursuing a master's degree. "Anyone can become an outstanding lacrosse player. I believe as a Coach, it is my job to organize, educate and push young players to become the best version of themselves, both on and off the field. I will always do everything I can to give young players the tools and knowledge they need to elevate their game, as well as their character. It's up to the player to find the required drive and the discipline within themselves to put their growth into action.
Stats & Accolades:
2023 CAA First Team All-Conference;
2023 Monmouth Team MVP;
2021 MAAC Tournament MVP & MAAC Champion with Monmouth;
2x All-MAAC FO Specialist; Monmouth All-Time leader in FO win % at 58%;
Monmouth All-Time leader in ground balls (280);
Single Season Monmouth Record in FO win %, winning 152/222 draws in 2021 (68.5%);
Single Season Monmouth Record for ground balls (114) in 2023;
Monmouth record for most Face-off wins and ground balls in a single game (24 FO wins & 14 ground balls); 10 career points (7 goals & 3 assists)
Coach Matt Dunn (2029 Coach)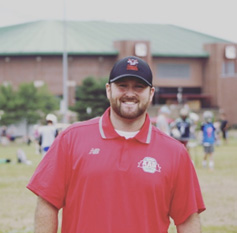 Coach Dunn was the Cherokee High School All Time leading scorer, where he earned the 2005 All- American title. He pursued his love of lacrosse by becoming the Cherokee High School Assistant Coach from 2015-2021. Coach Dunn has coached for the New Balance All American Team Philly and the World Series 2025 Team. Coach Dunn began his coaching career with Marlton Rec boys lacrosse, Tribal Lacrosse and now Jersey Express.
Coach Frank Bonner (2030 Coach)
Coach Frankie Bonner is a retired Police Lieutenant, with 28 years of lacrosse coaching experience. Frankie played lacrosse at Cherry Hill West High School, followed by Widener University, then went on to study at the John Jay College of Criminal Justice in New York City. Coach Frankie is the proud father of Gabriel and Mia Bonner. Gabriel is a graduate of Lenape High School and plays for the Rutgers Camden Men's lacrosse club and several semi-pro teams in the US and Canada. Mia is a Cherry Hill East graduate and currently plays attack at Felician University in East Rutherford NJ.
Coach Frankie has deep roots in South Jersey having coached youth lacrosse in Cherry Hill, Marlton, Mount Laurel, Medford, Gloucester Township and multiple inner-city teams in Philadelphia, as well as the Rutgers Camden Men's Club Lacrosse team. He was the offensive coordinator for the Felician University Women's Lacrosse Program. He is the co-founder of the South Jersey Boys Box Lacrosse League, and has coached for the South Jersey Shamrocks, and currently is coaching the 2027 Jersey Express team, which qualified and competed in the World Series of Youth Lacrosse.
Coach Frankie has played for numerous semi-professional box lacrosse teams in the US and Canada. He also played for the first Puerto Rican National Lacrosse team and is currently an offensive coordinator for the Under 21 team, which competed in the Lacrosse World Games in Ireland last summer. Coach Frankie prides himself on developing players with a positive attitude and a sense of humor. "I get the most satisfaction when a young player learns a new skill and smiles while doing so." Coach Frankie has developed hundreds of players throughout South Jersey and continues to do so in all aspects of a child's development. "I believe that sports have a direct correlation to life and the lessons learned in sports, including but not limited to social interactions, teamwork and accountability are what I strive to develop along with athletic skill".
Coach Bonner still plays lacrosse in men's leagues master lacrosse on multiple reservations in Western New York.
Coach Paul Canton (2031 Coach)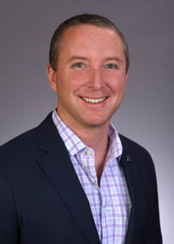 Coach Canton was a goalie for both soccer and lacrosse at Moorestown High School and was a member of Moorestown's first Men's lacrosse team in 1994. He went to the University of Richmond…before they had a lacrosse team! In his early 20's the Moorestown Varsity Coach, Val Curran, asked him to return to the Moorestown Lacrosse Club and give back to the game. He coached Moorestown's 6 th grade A team in the SEPYLA league for 4 years, from 2002-2006, right up until his first son was born in 2007. He fell in love with coaching the game over those four years. He took a few years off from coaching, while his oldest was very young, but then returned to the game in 2012. He has spent time coaching all three of his sons, in both Club (with Moorestown Club, the 2027 Jersey Express team, and now with the 2031 Jersey Express team) and Town lacrosse. He oversaw the Boys side of the Moorestown Lacrosse Club for 3 years. In 2021, he founded Breakaway Box Lacrosse, a Winter box league open to players from 3rd grade through High School. His coaching philosophy is to always look for ways to help players develop their game, whether its skill based, lacrosse IQ, maximizing effort, being accountable, being a good teammate, or sportsmanship. All are paramount to success as both a player and as a person. He believes in developing young men to be successful lacrosse players who can take what they learn on the field and apply it to their lives outside of lacrosse. His goal is to share the love for the game that Val Curran introduced to him with all his players, and to inspire them to want to share that love for the game with the next generation of South Jersey lacrosse players.
Coach Chris Rosenbleeth (2031 Coach)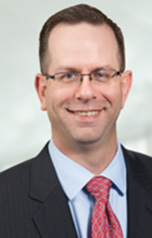 Coach Rosenbleeth grew up in Cherry Hill, New Jersey, and attended St. Joseph's Prep, Loyola College in Maryland, and Rutgers Law School.  He was active in sports through law school, most notably on various club and intramural basketball teams.  Having grown up in the area prior to the rise of boys' lacrosse, Coach Rosenbleeth came to the game when his oldest son began playing as a scooper and dove in headfirst to learning the game.  Coach Rosenbleeth has been a coach for 6 years with Marlton's town program, 2 years with Breakaway Box Lacrosse, and the past 3 years with Jersey Express' 2031 team.  Coach Rosenbleeth is also integrally involved with growing the game in South Jersey, as a member of Marlton's Boys' Lacrosse board, a member of the executive committee of the South Jersey Youth Lacrosse League, and, for 2022-2024, as the President of South Jersey Youth Lacrosse League.  Over that time and through those experiences, Coach Rosenbleeth fell in love with the game – "addicted", as his wife would say!
Coach Rosenbleeth believes in finding what approach to coaching works with each player – often, a "one-style-fits-all" approach doesn't reach every kid.  He loves to work with each player one-on-one to improve his skills and knowledge of the game.  You can often find him at practice and games pulling aside an individual player, pointing out small intricacies and cheering him when it "clicks" for that player.  Further, Coach Rosenbleeth believes that lessons learned on the field will translate later in life – whether it is discipline, teamwork, work ethic or being a good sport – and tries to instill these values in all of his players.
Coach Rosenbleeth currently resides in Marlton with his wife, Tiffani, and their three children, and is the head of the Real Estate and Finance practice of a large Philadelphia law firm.
Coach Jeff Niederberger (2031 Coach)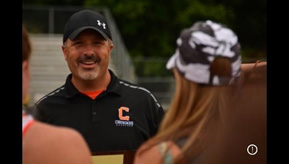 Coach Niederberger grew up in Long Island, NY and played lacrosse at Farmingdale High School. He
continued his lacrosse career at The University of Scranton where he was the captain of the team and a two-time All-Conference player.
Coach Niederberger brings over 20 years of experience to the Jersey Express program. From 2007- 2016, He was the Cherokee High School boys Assistant Coach and Defensive Coordinator. In 2009, he received the Olympic Conference Assistant Coach of the Year. From 2010 to today he has coached the Marlton Rec Boys and Girls Lacrosse programs from scoopers to 8th grade. He is currently the MRC Girls Lacrosse Director of Coach and Player Development. In 2017, Coach Neiderberger started his career as the Cherokee High School Girls Lacrosse Head Coach. He has held a career record of 82-36, winning the 2021 South Jersey Group 4 Championship, the 2021 Group 4 State Championship, the 2021 Women's Lacrosse Club of South Jersey (WLCSJ) and Burlington County Times Coach of the Year, and the 2022 & 2023 Group 4 South Finalists. Coach Niederberger resides in Marlton with his wife Dee and children, Kayla, Shayna, Ryan and Tyler.
Coach Will Peoples (2032 Coach)
Coach Will played Close defense at Hamilton High School West. His senior year he was 1 of 3 captains and was CVC 1st team. He continued his athletic and academic career at Mercer County College where he was part of the first season in program history and won the Region 19 championship (2019). Currently he plays box lacrosse for Trenton Terror, Philly Outlaws and a multitude of other teams. His strategy of coaching is based towards the defensive side of the ball as well as at the midfield. As a coach and a player, he believes that wall ball is one of the most important things you can do to better your craft and make you a better player. One of his favorite quotes that was shared with him when he first started playing lacrosse… "If you love this game, the game will love you back"-Roc Azzarello
Coach AJ Talone (2033 Coach)
Coach Talone was born, raised and currently lives in Moorestown, NJ with his wife, Katie and sons Anders and Jonah. He played for the Moorestown and Cherry Hill Lacrosse Clubs from 1991-1995. He attended Johns Hopkins University & played all 4 years of NCAA DIII Football. He continued his education at Widener University School of Law until 2002. Coach Talone was the Assistant Football Coach at Tatnall High School, while he pursued his law degree. Most recently, Coach Talone is the President of the Moorestown Lacrosse Club Board, as well as on the Breakaway Box Lacrosse Board. Coach Talone brings years of experience to the coaching world. He has coached various youth sports for both Moorestown Rec and Travel programs over the years. He currently coaches for the youth programs at the Moorestown Lacrosse Club, Breakaway Box Lacrosse, and is the 2030 Assistant Coach for Jersey Express.
Coach Derek Mihalecsko (2033/34 Coach)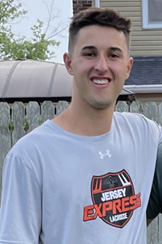 Coach Mihalecsko played lacrosse for 12 years going through the Marlton Rec and Cherokee High School programs. He went on to play defensive midfield for club lacrosse at The University of Delaware. Coach Mihalecsko is a defensive minded player focused on high energy and fast paced sets.
Coach Dan Rafferty (Youth Coach) 
Coach Dan currently plays defense for D2 Frostburg State University in Maryland. He grew up playing for Moorestown lacrosse club and Marlton Chiefs youth lacrosse. While at Moorestown High School he won a state championship and was later named captain during his Junior and Senior years. His senior year he led the team in ground balls and caused the most turnovers against teams.
As a coach, he wants to see the kids learn and grow as players. Starting with the fundamentals and playing the right way, then growing and building on those foundations. Doing the little things right goes a long way!
Directors
Erik Hilliard (Youth Director)
Patrick McAndrew (High School Director)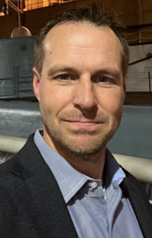 I started coaching Marlton Rec Lacrosse in 2010. Being part of the lacrosse program brought the opportunity
to become more involved and I took on the role as Marlton Rec Lacrosse Commissioner for 4 years starting in 2012. During my time with Marlton Rec, we saw the potential within a few teams that they could play at a club level. We also saw the need for a true South Jersey club team and decided to start our own. Tribal Lacrosse Club of South Jersey started from those original 3 teams and evolved into the Jersey Express program we have today.